Google Harnesses the Power of GOES in New Fire Maps
August 28, 2020
NOAA's GOES-16 (GOES-East) and GOES-17 (GOES-West) satellites are known for providing critical data to incident meteorologists, emergency managers, and first responders to detect fires, identify their locations, and track them in near-real-time. Now, they're also helping show the public where active wildfires are located so they can avoid dangerous areas. A new Google feature uses satellite data to guide the mapping of fire boundaries and assist in providing official updates and alerts. .
When you search for the name of an active fire in Google, the results will now include a map showing the approximate location of the fire and area affected, created using GOES-16 and GOES-17 satellite data. If you are searching for a location near an active fire, you'll receive an alert. This feature, which was tested in California in 2019, will now be available across the United States.
These fire boundaries are also available in Google Maps to provide information on road closures and directions, helping people avoid roadblocks and dangerous conditions around an active fire. Users will receive a warning if they are approaching a fire.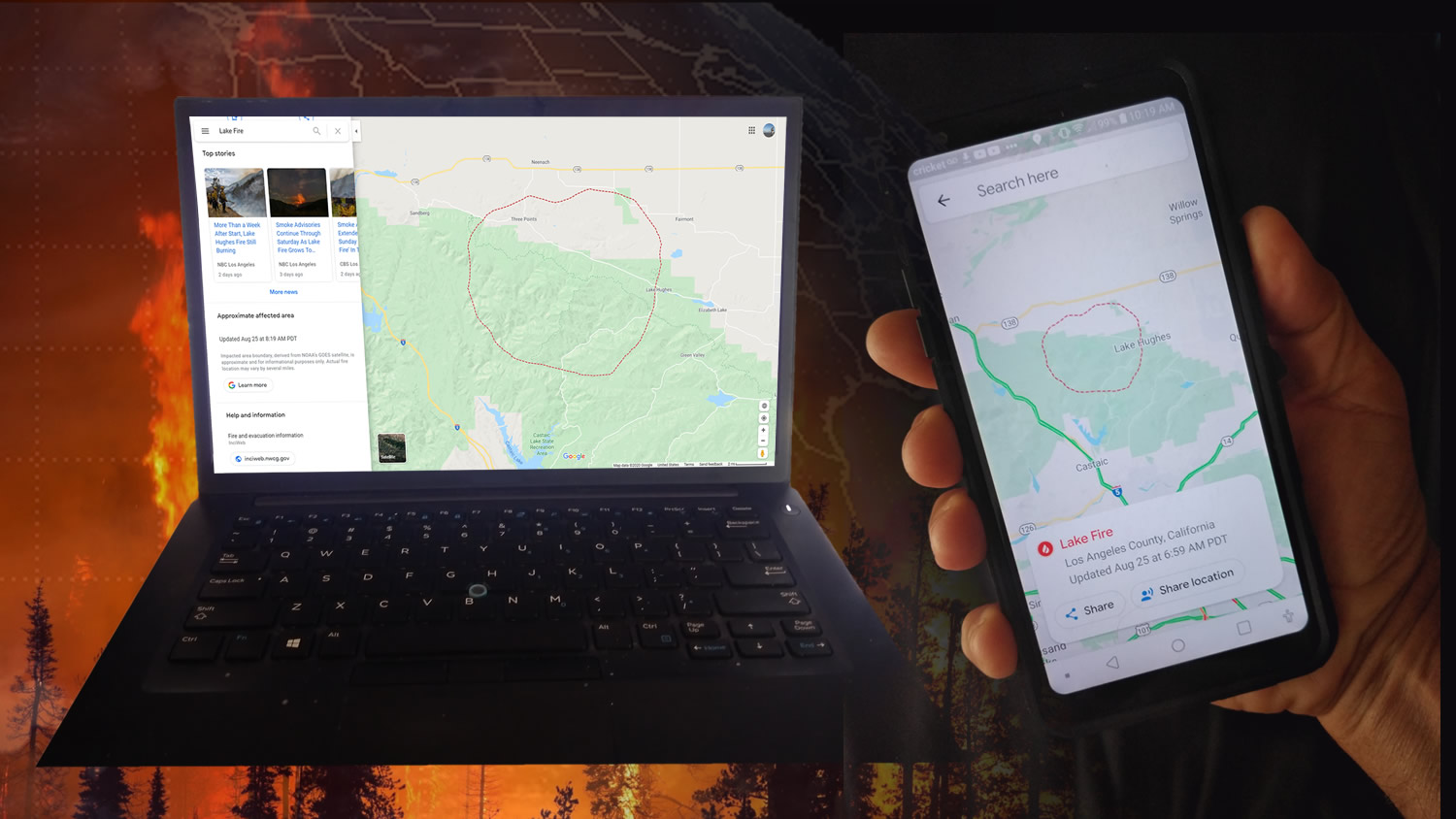 Google's new wildfire-mapping feature, created using GOES data, includes fire boundaries and official updates. Credit: Steve Sabia, GOES-R/NOAA/NASA

View the high resolution version of the image.
This news comes as California is experiencing one of the worst wildfire seasons in the state's history. On August 17, 2020, nearly 11,000 lightning strikes ignited at least 367 fires across Northern California. Since then, there have been more than 700 new wildfires, with more than 1.32 million acres burned, according to the California Department of Forestry and Fire Protection. As of August 26, the SCU Lightning Complex fire was the second largest in California's history, and the LNU Lightning Complex the third largest.
The new and advanced capabilities provided by GOES-16 and GOES-17 allow for new applications like these fire boundary maps. These satellites provide a wealth of new data, at a much faster rate, with clearer views of Earth than previous generations of geostationary satellites. New capabilities help detect fires faster, pinpoint a fire's location and size, detect changes in its behavior, and predict a fire's motion.
The GOES-16 and GOES-17 satellites measure visible and infrared energy along the electromagnetic spectrum to obtain information about Earth's atmosphere, land or ocean. The satellite's imager contains 16 "channels" for measuring specific wavelengths of light. Data from multiple channels can be combined to provide even more information about what's happening on Earth.
The new Google fire-boundary maps use the GOES-R fire/hot spot characterization data product, which combines data from multiple visible and infrared channels to detect and monitor wildfires, and more importantly, rapid changes in individual fires. This satellite data is then processed by Google's Earth science data and analysis platform, Earth Engine, to identify the affected area on a map. The result is a shifting red boundary that is updated every hour.
GOES-17 imagery of fires burning in Northern California August 20-21, 2020. This imagery shows both the fires' hot spots and widespread smoke from the blazes. Credit: NOAA/CIRA
Getting accurate and timely information to people near a wildfire fire can save lives. Google developed the new fire maps with input from the California Governor's Office of Emergency Services to help make critical information from official sources easier to find. This is especially important during a rapidly-evolving fire situation.
Since the launch of GOES-16 in 2016 and GOES-17 in 2018, new data applications are constantly being developed. Potential life-saving capabilities are still being realized. The advanced data and information these satellites provide continue to make possible new and innovative ways to help keep us informed and stay safe.