GOES-R Hackathon Inspires Innovative Solutions to Environmental Challenges
October 6, 2021
The GOES-R Program conducted its first-ever hackathon from Sept. 24-26, 2021. During this virtual event, teams of college students collaborated to develop interdisciplinary solutions to contemporary environmental issues using GOES-R Series satellite data.
The teams had 48 hours to complete one of five challenges and submit a video presentation explaining the challenge the team decided to tackle, what problem the project aimed to solve, the solution needed to address the issue, and how the project contributes to the solution using GOES-R data. The challenges targeted an array of disciplines, including meteorology, social science, environmental science, computer science, data visualization, and emergency management.
Winners were announced in an awards ceremony on Oct. 1. A team of NOAA scientists judged the submissions on creativity and out-of-the-box innovative solutions, feasibility, and thoughtful use of GOES-R products and/or synthesis with external data sources. The first-place team developed an app to allow users to use GOES-R satellite data to 3D print images of storms, hurricanes and other natural phenomena. View the winning submission.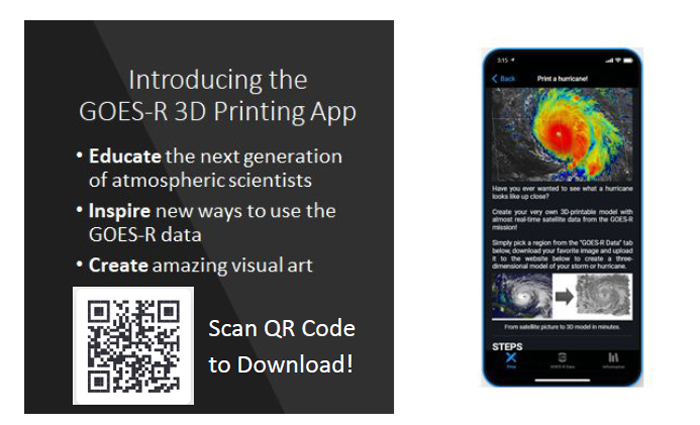 The hackathon was a new GOES-R end user recruitment and engagement initiative. Undergraduate students of any academic major from NOAA Center for Earth System Sciences and Remote Sensing Technologies (CESSRST) institutions were eligible to participate. The strong relationship we built with the CESSRST consortium may lead to a potential pipeline of interested interns with diverse educational backgrounds. This event engaged students through friendly competition and exposure to NOAA/NASA scientists, helped develop and train new end users of GOES-R data, fostered partnership between NOAA and academic institutions, and encouraged invention and innovation.
Thirty-one students organized into six teams participated in the event. As this was a pilot event, the program capped registration and limited eligibility to NOAA CESSRST institutions to keep the event manageable. The program plans to open the hackathon event up to additional NOAA-affiliated schools next year.